Training is one of our core businesses of our company.
We trust what FAO wrote on March 2015 in its Aquaculture newsletter: " Agricol sector is called to do more with less. In order to front population growth, climate changes, less water and farming land availability the development of efficient integrated techniques will help economic growth and food safety.
Aquaponic allaws the integration of different farming systems reducing inputs, pollution and wastes and increasing efficiency, profits and environmental protection".
We are daily engaged in spreading the knowledge about working systems and economic, employment and ecological opportunities offered by aquaponics for commercial production of vegetable and animals for human consumption and/or ornamental pourposes.
We offer at national and international level courses to private people , organisations, companies, schools and host apprentices from Italian universities.
Pictures about our recent training activity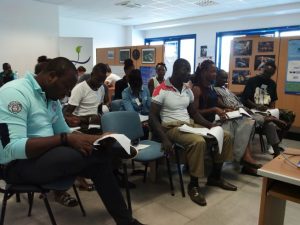 Studens from Ghana during professional training in our headquarters (governmental programme Italy-Ghana)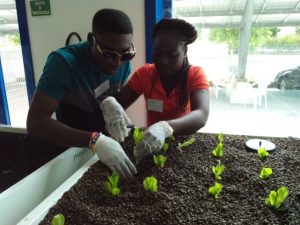 Two students bedding out young salad plants in an aquaponics unit.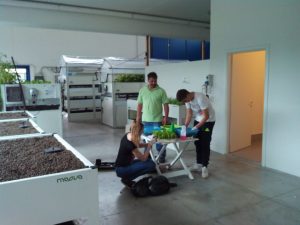 Italian students from a high school in Falconara (Ancona) during a training stage.
Students equipped to operate in an aquaponic quarantine basin with Koi carps, assisted by our technician Stefano Guidi.