At the base of our philosopy there is our attention for human wellness and fish and vegetable products completely organic, with no antibiotics, drugs, pesticides or other chemical additives.
Fabio Strappa, Chief Executive.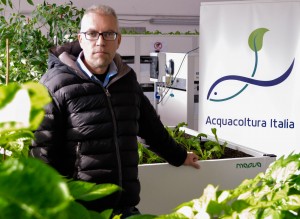 Thanks to our unique know-how in Italy obtained during the years, our company is specialized in design, realization, training, management and assistance of aquaponic systems and provide services in traditional Aquaculture fields too.
Our skills in Aquaponics extend in national and international areas; our company is an Italian Accredited Training Organization. Furthermore it is an official FAO Service Provider in the professional international training in Aquaponics.
Our company takes care of delivering training courses aimed at those who want to start a new career in Aquaculture and Aquaponics sectors or want to rehabilitate lands or water reservoirs or disused buildings having an interesting additional or total income too.
Our staff provides consultancy and assistance in eco-friendly projects for the aquatic productions addressed to the markets focused on food and ornamental sectors (such as the aquarium business). .
Our company strives to contribute to the diffusion of production systems for supporting new entrepreneurs and companies to the creation of new occasions for additional income and new jobs, safeguarding the natural fish resources and supporting in this way also the diffusion of sustinable methods for the national food self-sufficiency .
Main training activities and professional cooperations
Vocational training courses for new and skilled fish breeders from Ghana in Africa. Those training activities are inside a governmental pluriannual project issued by the Ghana Ministry for Fishing and Aquaculture Development. The main goal is to upgrade Tilapia breeding in Ghana. Courses take place in our training facility in Osimo, Italy. The program is in progress.

Organization and training management of the first international workshop about Aquaponics by FAO. Attendants were officials from Northern Africa and Far and Middle East.
Our cooperation with FAO consists in vocational training and consulting about Aquaponics for scientific and commercial pourposes.

On invitation of Saudi Arabia's Ministry of Agriculture attendance at Aquaculture Invest Forum in Yanbu, organized by FAO for fishing and Aquaculture development in the country. Our company was the only presenting Aquaponics systems.
Presentation on "Aquaponics and its employment and revenue opportunities in desert regions" inside Aqua ME 2016, the summit organized in Dubai by the World Aquaculture Society under the patronage of Ministry for Climate Changes and Environment of United Arab Emirates.
Professional cooperation with Università Politecnica delle Marche for a three-years research about salt water Aquaponics for biological breeding of valuable fish saving product quality.
In cooperation with Università di Firenze the first Italian study about Aquaponics plant economy was edited.
In collaboration with the Marche regional public agency for the development of Agriculture a two-years experimental study was made for the intensive organic cultivation of wild edible vegetables making use of Aquaponics. We host and manage an experimental greenhouse with the objective of tuning a methodology to obtain products for local food markets through the adoption of simplified technologies and product diversification.
Economic outline of a commercial aquaponics plant in Italy. Study commissioned by Università Politecnica delle Marche and Italian government agency for the entrepreneurship Invitalia.
Design and construction of aquaponic plants for productive, didactic and social purposes in France (in cooperation with AquaGuide Sas).
Design and construction of the first indoor zero kilometers commercial aquaponic plant in Italy.
Framework agreement with universities and college for trainees in Aquaponics.
Supply of family aquaponic units and training for their social use for requalification of unoccupied persons and refugees in collaboration with ONGs.
[/two_third]