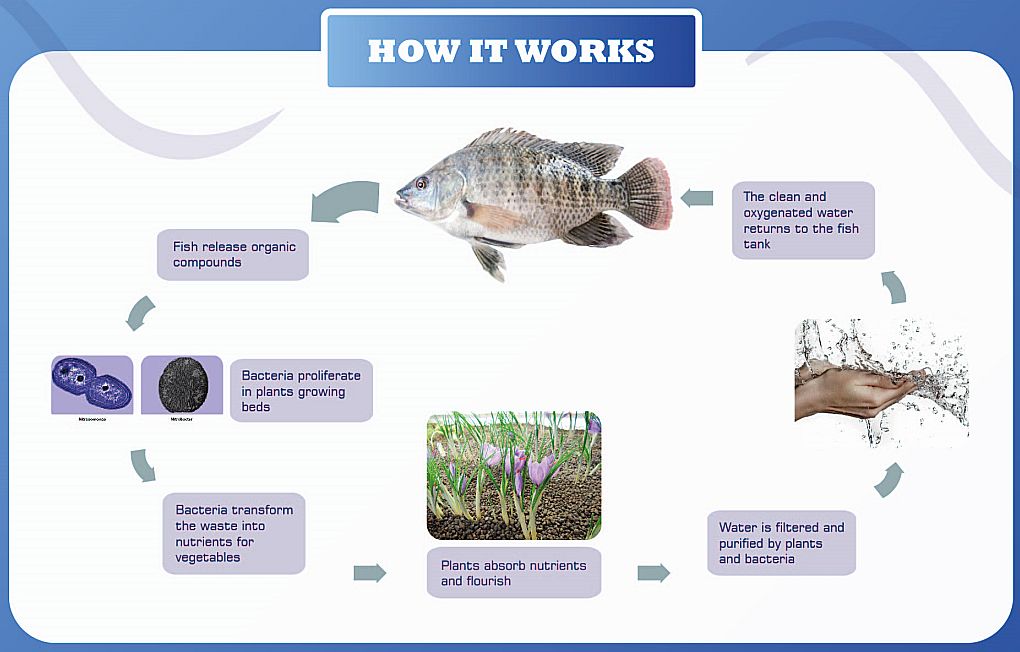 Aquaponic is an innovative ecological production system through which Aquaculture (fish and crayfish farming) and idroponic farming (vegetables grown up in absence of soil) work together. It is a perfect marriage between two well tested productive methods maximizing the reciprocal qualities.
As shown in the diagram an aquaponic system consists in using fish farming water to irrigate special grow beds in which plants are cultivated without soil or fertilizers.
Water is rich of organic nutrient substances, produced by the animals, of which plants can benefit for their growth: the healthy bacteria cultivated in the grow beds turn fish wastes into growth elements which are absorbed by plants through their roots. Than filtered and cleaned water can flow back into the fish tank to start a new cycle.
Download a short presentation about Aquaponics and its opportunities for profit, employment and teaching.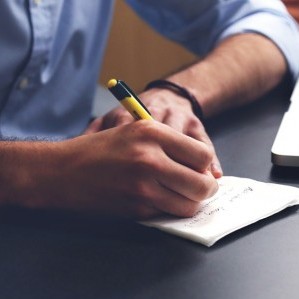 Planning
Efficient and rational realization, start up and management of a new productive system are possible in different weather and geographic conditions and influence the choice of right fish and vegetables to be grown up. Also the characteristics of the system infrastructures must fit with geographic, physical, climatic and economic conditions.
Our team is formed by biologists, agronomists and engineers and is able to help our customers to make the best choice for their new productive plant.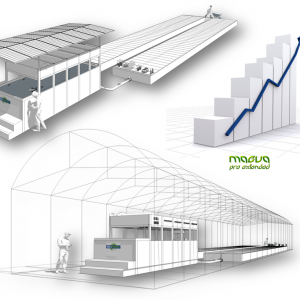 Building
Thanks to the cooperation of our technological partner IRCI Spa we can realize fresh and salt water aquaponic systems for breeding fish and cultivating vegetables, addressed to the food and ornamental markets and for family and urban furnishing purposes.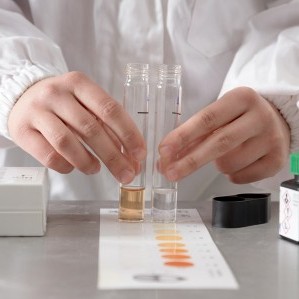 Assistance
We operate both at national level and abroad.
Our skilled and qualified staff support our customers in every stage of their project from conception through start up and management.
We will also suggest you the best choices both for profit pourposes or family consumption.
We can provide global counselling from preliminary studies and identification of best choice as far as investment and return on investment, technical solutions and production are concerned.
We can also follow start up and management through personalized services and specific staff training.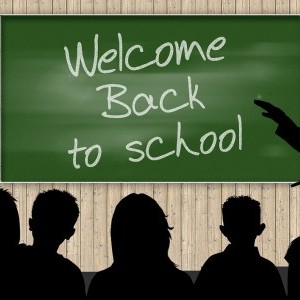 Training
Both at our headquarter and at our customer's plant we organize and provide courses and seminars for:
Scientific and tecnical training
Aquaponic system ordinary and extraordinary management
Professional requalification of operators, fishermen and unemployed persons
Working stages
Our company has been accredited for vocational training by Italian law. Besides it is an official Service Provider of FAO for aquaponics vocational training at international level.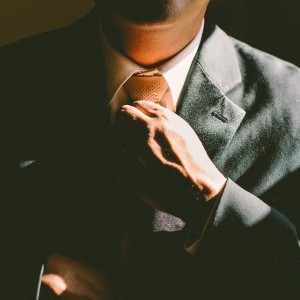 Consultancy
We are able to assist our client by providing a complete consulting service and assistance, following him in the initial phase (starting from the drawing up of a preliminary study to identify the best productive plant investment) and in the implementation of  the system, supporting him with our technical staff knowledge and experience both during the time of first start and during the ordinary course of animal breeding, with personalized service and professional specific training.